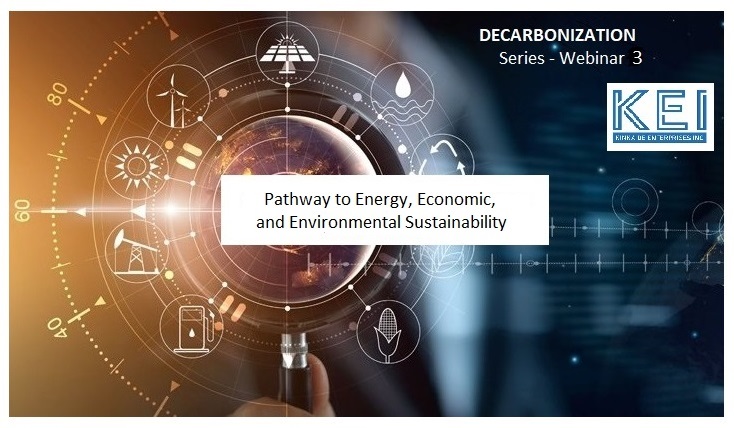 Our troubled climate is the victim of an imbalance in energy emissions. An energy transition is called for warranting for example: penalty pricing in producing and using carbon for energy, adoption of environmentally benign sources of energy, and/or learning to adapt to the anticipated increase in global warming.
The basis for hope that excessive warming can be averted comes from whole array of initiatives including innovation - the adoption of new sources of energy and the reduction of emissions from established sources. The innovations of particular interest are technologies such as sequestration of CO2, the usage of several forms of renewable energy, the conversion of hydrocarbons to hydrogen as a by-product, and nuclear, yes even nuclear - fission in the short term and fusion in the future.
The situation is complicated. Market forces are often cited as the prime driver of change, but in the case of climate change, a shift in market demand - in the usage of carbon for energy, may not be soon enough to avert levels of global warming anticipated by mid-century. Furthermore, the imbalance of supply and demand is not even globally. Developing economies have a different appetite for change than those already established. And regulatory options vie for acceptance among various levels of government often with different political ideologies. Change in democratic regimes are harder to institute than those that are more autocratic. And while technology is promising, is it affordable and adoptable, effective and on-time? And what is the right and acceptable path is a source of ever increasing emotion as people are drawn to weather related calamities on an almost daily basis.
The KEI Network is hosting three webinars in December DECARBONIZATION - an Alberta perspective. The first -Thursday December 2nd, HERE explored the breath and depth of the energy industry and the forces and sources of change that are rapidly shaping the industry. The second - Thursday December 16th, HERE explored innovation including current and emerging technologies and their anticipated value for addressing climate change. The final webinar, December 23rd will take into account what we've learned and formulate a pathway - from an Alberta perspective, for achieving energy, economic, and environmental sustainability.
Save the dates. Share your views. Invite your colleagues. The discussion promises to be insightful if not controversial.
WEBINARS




REGISTER free HERE

or

COPY the Zoom address

Last week's webinar

Emerging Technologies - addressing climate change
WEBINAR 3. THURSDAY , DECEMBER 23rd 4:00 - 5:30PM MST
Decarbonization. The Pathway to Energy, Economic, and Environmental Sustainability
The demand for energy and emissions-reducing technologies is both increasing and shifting from the Euro-America to Indo-Asia.
MODERATOR

James Carter

PRESENTER




Eddy Issacs

Retired from Syncrude Canada where he had served as both President and Operations Chief. He currently serves on the Boards of Directors of Irving Oil Limited, Brand Industrial Services, and EllisDon Construction Services. James is a Corporate Director of Finning International and serves as board chair for Careers: The Next Generation, a not-for-profit organization. He is a former Chair of the Mining Association of Canada. James as been awarded the Order of Canada and was inducted as a Fellow of the Institute of Corporate Directors. He has also been awarded honorary doctorates by three Canadian universities.

Immediate Past President of the Canadian Academy of Engineering. Former CEO of Alberta Innovates – Energy and Environment Solutions (AI-EES). As CEO of AI-EES, responsible for Alberta's strategic directions and technology investments in the areas of energy, renewable and emerging resources, and water and environmental management. James moderated the 2nd webinar -Emerging Technologies - addressing climate change in the KEI Network's series on Decarbonization.

PRESENTER




Kate Chisholm

PRESENTER

Dave Collyer


Senior Vice President, Planning and Stakeholder Relations and Chief Sustainability Officer for Capital Power and former Vice President, General Counsel and Corporate Secretary for EPCOR. Kate has provided counsel and expert witness testimony in numerous electric utility hearings, including those arising from the restructuring of the Alberta electricity industry. She was awarded the prestigious "Robert V.A. Jones" Lifetime Achievement Award by the Canadian Corporate Counsel Association in 2008, appointed Queen's Counsel in 2010, named one of Canada's Top 50 Diversity Champions by Women of Influence Magazine in 2013, named one of Canada's Top 100 Most Powerful Women and given a Leadership in the Profession Award by WILL/Counsel Network/Association of Women Lawyers in 2014, and named one of Canada's Top 50 General Counsels in 2016. Kate currently serves on a number of boards and governing bodies, including Chair of the University of Alberta Board of Governors.

An experienced strategic and operational leader in the Canadian energy sector, with a strong focus on integration of technical, economic and public policy considerations in business decision-making. He currently serves on a number of corporate and public sector boards, and provides consulting services to the Canadian energy sector. Dave was President and CEO of the Canadian Association of Petroleum Producers (CAPP) from September 2008 until December 2014, responsible for leading CAPP's activities in education, communication and engagement, and policy / regulatory advocacy. Prior to joining CAPP, Dave Collyer was President and Country Chair for Shell in Canada and held a broad range of technical, business, marketing, and senior leadership roles. He also participated in a two-year Executive Exchange assignment with the federal government in Ottawa as Director, Supply Branch at the National Energy Board.

Former recorded webinars are archived and accessible HERE

Send comments and requests HERE

Advertizing/ partnership opportunities HERE

Signup for Troy Media's daily editorial and news updates HERE




Solving labour shortages through innovative inclusion. Contact us HERE