Resolving the collision of public and private interests

Issue #120

The Forces & Sources of Change

VOTE

Complex, Relentless, Chaotic - Begging for Leadership

WEBINAR VIDEOS

Last week

EPISODE #4. RECOMMENDATIONS - Diversifying Alberta's Economy

Calgary Webinar Invitation

JUSTA CHAT - Join us for an on-site SEANCE - the sipping of spirits, with locals of the KEI Network

Thank you - Greg MacGillivray of Scenarios to Strategy

01 JUN 23

4:00PM MST Thursday

On-site at MILESTONES - 107 - 8 Avenue SE, Calgary, AB

On-line
CHANGE, LEADERSHIP, AND THE ECONOMY
Last week's webinar HERE https://youtu.be/Z5ywy1-Kq90 Episode #4. RECOMMENDATIONS concluded the 4-episode series about Alberta's economic diversification/ resilience and the effectiveness of it's innovation ecosystem including the role of leadership. Perry Kinkaide hosted the discussion featuring the former commentators: John Liston, Trevor Lewington, Brad Ferguson and viewers.
Episode #1. Questions for ELECTION Candidates with John Liston as Commentator https://youtu.be/GUd4eYaxSwo
Episode #2. The Regions - Calgary, Edmonton, Other with Trevor Lewington as Commentator https://youtu.be/_qiD7QgzpZI
Episode #3. The Sectors - Industry, Professions, Public Services and the Role of Government with Brad Ferguson as Commentator https://youtu.be/bmxyh3o6J18
Episode #4. RECOMMENDATIONS with former Commentators https://youtu.be/Z5ywy1-Kq90
While there has been steady progress in diversifying the economy and increasing the effectiveness of the innovation ecosystem, sentiment is consistent on two points: 1. The pervasive influence and volatility of the oil and gas industry continues to hinder progress and 2. Government intervention in technology commercialization and the education and training of job-creating graduates must take into consideration Regional differences in a) The support/non-support dividing the Edmonton/Calgary Regions for government intervention and b) The Sector mix of Industry - most prevalent in the Calgary Region, Professions, and Public Services - most prevalent in the Edmonton Region. Optimism prevailed with insights addressing the positive contributions expected from AI for research, the importance of leadership style in federal representation of Alberta's interests, entrepreneurship as the engine of innovation, and the ever growing importance of healthcare reform. (For a comprehensive summary of Recommendations derived from the survey and webinar discussions visit HERE )
---
Provocative Market Trends
Technology & Engineering - Changing everything ... fast
AI Prompting Anxiety. Computers have an ever increasing capacity to process data. Data production and data access are also limitless. Now with generative AI on the loose artificial humans may possess super intelligence partnering and possibly replacing people in the workforce. The opportunities appear limitless. HERE While AI is expected to boost innovation, productivity and global GDP, disruptions need to be anticipated and managed. HERE AI are apps are getting very creative. HERE Can regulators keep up? HERE Founders think they should. HERE Stay tuned as we feature "Thinking About Consciousness" for our June 8th webinar.
Achieving Decarbonization. Climate plans are recognizing hydrocarbons as required to effect an orderly transition to low carbon, net zero emissions energy systems. HERE Emerging countries are the big emitters and need energy now. HERE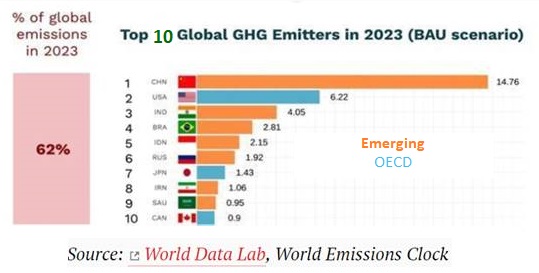 Embracing Nuclear Energy. Since the advent of the atomic age, public angst about nuclear waste, runaway fission, and weaponization have empowered regulators to contain nuclear as a source of energy. But, over time treaties and technology, an improved safety record and the ever-growing demand for decarbonization, have served to renew the acceptance of nuclear as an energy source. HERE Nuclear going small and mobile with SMRs 1% the size of conventional plants. HERE Also relevant is continued progress in replicating the sun on earth - fusion, as a future nuclear energy source. HERE
Pursuing Everlasting Life. When asked, most people say that they would not opt for everlasting life. Regardless researchers continue to explore anti-aging technologies for extending life - possibly without end. HERE and HERE
Socio-demographics & Governance - Impacts and transitions ... underway
Public Protecting Personal Privacy. Some people don't give a damn or are just ambivalent about protecting their privacy. The ambivalence helps fuel the enormous global market for personal data and complicates the role of public regulators who care more than most about protecting your personal records. In the search market and social media space, regulators have been late to the game and rather inept. NOW, Meta European Union regulators have fined META a record-breaking €1.2 billion ($1.3 billion) for violating EU privacy laws by transferring the personal data of Facebook users to servers in the United States. HERE
Urbanization Reversing. The global demographic trend of moving from rural to urban spaces is not just slowing down, it may be reversing: workers are not returning - vacant office towers and work from home, urban crime is on the rise including retail theft, homelessness fallout is growing, costs including housing, taxes and municipal debt make urban living uncompetitive; and traffic congestion and poor air quality round out are also of concern. HERE Sinking compounds the threat to coastal cities. HERE
Is ChatGPT Creative? AI are apps are getting very creative. HERE The courts are now to decide whether generative AI applications such as ChatGPT can be held accountable for content and libel to defamation claims. The decision is expected to rest on whether the content can be considered "creative or not", and if so then legislative protections would not apply. HERE
Investment Exiting China. U.S. and European export and investment controls on China are important "decoupling" policies as are friend-shoring incentives. But much of the impetus for decoupling foreign investment in China is coming from two other sources: Chinese policy and the rational calculations of multinational companies themselves. HERE Some doubt as to whether others will follow. HERE The Canada-China relationship is complicated and confused. HERE
Embracing Iconoclasm. The toppling and defacing of statues, removing of symbols, burning churches, hostility towards references to slavery, colonization or racism, whitewashing history and eliminating social studies from curriculum, reflect an increasing clash of cultures. The challenge to established norms and values is transforming institutions and signifies an excessive manifestation of neoliberalism and concerning advancement of political thought control. HERE
Gender Divide Triggering Depopulation. The male-female divide portends a very dystopian future, in which only the elderly population grows, while children and families become rarer and more stressed. This is not a feminist paradise, but a dysfunctional society, where men and women are increasingly indifferent towards, or at odds with, each other. HERE
Political Chaos Continuing. US politics have rarely been so divisive with the possible exceptions of significant turmoil in 1960s and early 1970s due to issues such as the Vietnam War, civil rights, and the Watergate scandal. The 1850s also saw deep divisions over slavery that ultimately led to the Civil War. Today left/right disagreements continue over issues such as healthcare, immigration, climate change, gun control, the role of government, among others. This polarization has been exacerbated by changing media landscapes, creating ideological echo chambers and deepen divisions. The selection of Presidential candidates and the next election may further exacerbate the tensions. HERE
---
Seasonal Wrap-up Webinars
4:00PM MST Thursdays
https://us02web.zoom.us/j/82390691947
June 8th - Thomy Nilsson discussing "Thinking About Consciousness"
June 15th - Mark Milke interview "Freedom of Expression"
---