Emerging technologies are reshaping our future

Issue #110x

Democracy ringing widely


Neoliberalism - Free expression - but can be noisy

LAST WEEK'S WEBINAR

Recovering the Loss of Humour

Webinar Invitation - "Justa Chat"

23MAR23

Join us 4:00PM MST Thursday
I've shared with some of you my musings that the conflicts over free expression causing widespread emotional stress and social turmoil, are reflecting an end of the Age of Reason as knowledge has now become commoditized. The decline in the value of knowledge, I mused, is signaling the emergence of a new Age, heralding the value of emotion and creativity. The end seemed clear.
The forces and sources of change have converged: economic - globalization, technological – generative AI, socio-demographic - freedom, and political – democracy. Together they explain the widespread global disruptions and protests. But then ... after conferring with a friend in the US troubled by the democratic turmoil it is weathering and reading about excessive individualism and human interests eroding the mission of the church HERE - I got to thinking, maybe not! Maybe the increase in emotional distress and social turmoil is simply a reflection of the spread of democracy and an increased tolerance of - and practice of, personal and public free expression - neoliberalism.
Free expression - core to democracy. As free expression increases - speaking up and speaking out, conflict increases. Differing viewpoints surface and can - when at odds, be the source of increasing conflict. Free expression in the form of public protests do - when effective, serve to increase our faith in democracy, a political system that tolerates conflict as a constructive force for learning. As such, free expression - in the extreme public protest, brings about change through evolution and releases pressure for revolution.
Free expression in the media and particularly social media play an essential role in elevating tension, drawing attention to injustices, informing the public and sometimes fomenting public protest. That freedom, the freedom to protest. is a very effective tool in democracy for shaping public policy and core in the formulation of constitutions and declarations for change. Free expression contributes to the evolution of public policy through debate and elections. In a democracy debate is preferred to individual and societal violence. While Relax Dammit is an important message, so is learning citizenship in a democracy: freedom to speak and freedom to assemble, protesting and learning how to protest. Each go hand in hand in a democracy bounded by principles of tolerance and the boundaries of law and order. But for resolving unresolved conflict: leadership, compromise, and tolerance are warranted to mediate and quell the chaos.
Protesting - a worldwide phenomenon. Let me share with you a little investigation I undertook this morning. I asked Google to research the word "protest" and then search its appearance in the news around the globe. Wow! The globe is vibrating with protests, everywhere: social, economic, technology, environment, political. Are governments not listening? HERE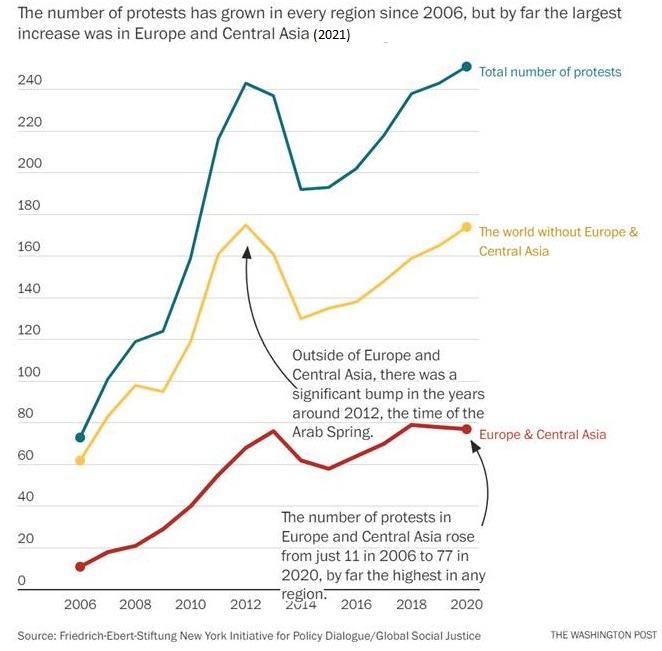 Neoliberalism is alive and well. You name it, somewhere, in fact – everywhere, there is a protest going on. Google can find it. The media thrive on it. Should we care? Is the glass half empty. Is democracy coming to an end? Is the Age of Reason behind us? Or is the spread of protesting good news - that the glass is half full; that democracy and it's associated freedoms are more widespread. Are we simply witnessing neoliberalism on a global scale at its finest - faith in the power and effectiveness of free personal and public expression. Uncomfortable, yes - but then such discomfort, conflict - within limits, is the price of free expression, that is the price of freedom. (Trump is a protest promoter. Whereas Putin and Xi are anti-protest enforcers. Trudeau is meek by comparison.)
Why so much protesting? On a societal level the rise in protests around the world highlight the rise of democracy and the challenges that it faces. Protesting serves as a means for people to express their concerns and demand change, which is essential in a democratic society. However, the increase in protests is also an indication that there are underlying problems that need to be addressed such as:
Authoritarianism: The rise of authoritarian leaders and governments that seek to undermine democratic norms and institutions.

Disinformation and misinformation: The spread of false information, propaganda, and conspiracy theories that can undermine public trust in democratic institutions and lead to the erosion of democratic values.

Polarization and tribalism: The increasing tendency for people to identify strongly with their own social, cultural, or political group and to view those outside the group as the enemy. This can lead to a lack of trust in institutions and can make it more difficult to reach consensus and compromise.

Economic inequality: Growing economic inequality can make it more difficult for people to access the political system and can lead to the perception that the political system is rigged in favor of the wealthy and powerful.

Technological disruptions: Rapid advances in technology, including automation, artificial intelligence, and social media, can disrupt traditional democratic institutions and create new challenges for democratic governance.
These threats are interconnected and can reinforce each other, making it more challenging to maintain a healthy democracy.
Freedom is not anarchy. Guaranteeing free speech and the freedom to assemble together warrant tolerance of protesting - fundamental in democracy. But at the same time, freedom brings with it responsibility - that protesting should be orderly and constructive. Shutting down such freedoms should be taken with GREAT care. Together they serve to release pressure and contribute to the evolution of public policy without revolution. The underlying causes of protests often reflect a threat to democracy, but it is that very threat that must be tolerated and viewed as a legitimate channel for people to express their grievances and ensure that democratic institutions are functioning effectively to address those concerns.
I'll leave it at that ... when freedom rings, democracy is on sound ground. - Editor
---
IMPACT AND REQUEST
We are monitoring how emerging technologies are driving change and their impact on people and society, the economy and geo-politics. We and our partner - Troy Media, want to interview advocates for change, the leaders and the victims of e.g.: climate change, identity politics, energy transitions, healthcare reform, regulatory overhaul. Share your concerns, insights and recommendations. We are seeking stories of how people are adapting or not to change and the organizations that are or are not helping. Advances in technologies continue to shape our future for good or for otherwise. Are we vulnerable? Are our institutions capable of mitigating the risks of these technologies being used/abused in the interest of advancing utopian visions of post-modernism and identity politics? Do you have a story to tell? Let us know. Editor@KEInetwork.net
---
PARTNERING

Signup for Troy Media's daily editorial and news updates HERE